Monthly Archives:
April 2009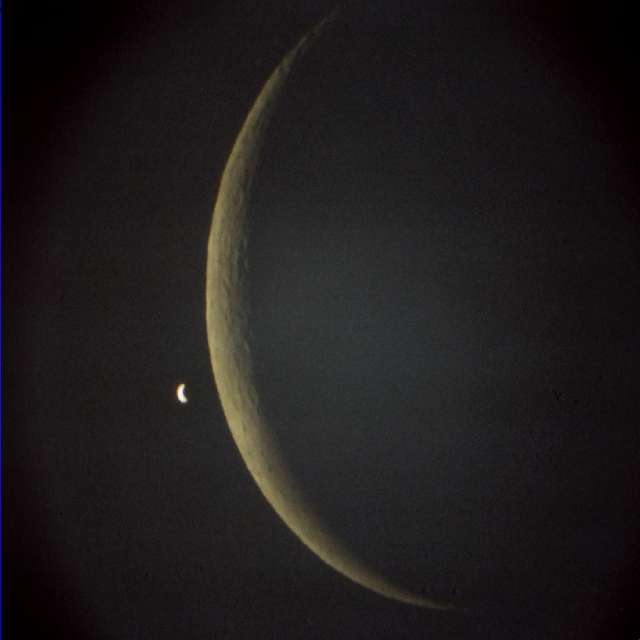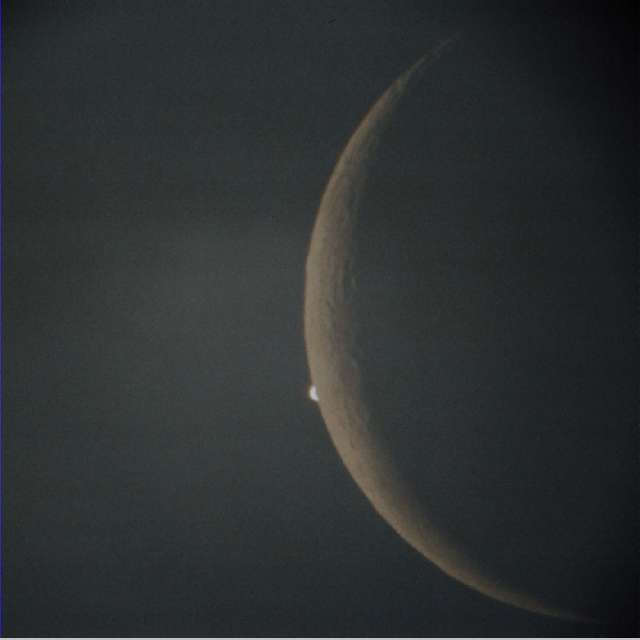 ---
Photographer: Doug Wayland
Object: Occultation Venus/Moon
Date: April 22, 2009 at 05:38 PST
Details: None available
PRINCE GEORGE ASTRONOMICAL SOCIETY
ROYAL ASTRONOMICAL SOCIETY OF CANADA
PRINCE GEORGE CENTRE
7365 Tedford Road
Prince George, BC
V2N 6S2
Business Meeting Minutes April 8, 2009
Date: April 8, 2009
Location: 490 Brunswick St
Chairperson: Maurice Sluka
Recording Secretary: Glen Harris
Executives Present: Glen, Maurice, Brian, Wayne, Doug, Jim T
Members Present: Al H
Meeting Called to Order at 7:40 pm.
1. Previous Meeting Minutes
Minutes of March 11 meeting were circulated.
Motion to accept minutes as circulated. Moved: Wayne Seconded: Brian Carried
2. Treasurer's Report
Club Account: $6158.58
Gaming: $8000.46
Motion to accept treasurer's report as circulated. Moved: Glen Seconded: Wayne Carried
Details on file
3. Correspondence, Secretary's Report
Various bills, statements, and Centre newsletters.
.
4. Old Business
The charity tax return was sent to CRA. A big THANK YOU to Ken for taking care of this.
Rob reported that Wolftek was planning on doing some test runs with small pieces to see if they'd be able to manufacture the dome flange but got sidetracked with other commitments.
5. New Business
Al gave an overview of the risk assessment process and agreed to be the facilitator.
Motion: To proceed with the risk assessment with Al as the facilitator with Bob, Wayne, Maurice, and Doug assisting. The first session will be on April 18 at 2 pm at the observatory.
Moved: Glen Seconded: Wayne Carried
ACTION: AL, BOB, WAYNE, MAURICE, and DOUG on April 18, 2009
Motion: Replace the end of the month meeting/social gathering with events focusing on casual, public, date flexible observing events. Moved: Brian Seconded: Maurice Carried
A business meeting is not normally held in August. To gear up for the fall viewing season, the following motion was put forth.
Motion: Hold a business meeting on Aug 5, 2009 to put in place a schedule of events and volunteers for the fall viewing season. Moved: Brian Seconded: Maurice Carried
The new tour booking procedure is working well and has reduced stress and tour coordinator time commitments considerably.
The newsletter still needs an editor.
$1000 has been set aside for the Dr. Luc Simard lecture in September. Travel dates need to be confirmed and hotel arrangements made.
ACTION: GIL and MAURICE
Registration in the CNC Celebration of Science Fair is confirmed. This event occurs on May 30 between 10:30 am and 4 pm.
ACTION; WAYNE and GLEN to set up and man the booth
Motion: To award the winner of the School District Science Fair with a one-year membership in the RASC Prince George Centre. This award will be ongoing with the proviso that the winner's science project be related to astronomy.
Moved: Wayne Seconded: Maurice Carried
ACTION: GLEN
As the spending proposal procedure continues to evolve, a 5 level rating system has been developed and will be included in the approval process.
Rating:
1. Essential for health and safety to reduce risk and liability.
2. Required repairs for maintaining operation for tours and public events.
3. Desirable upgrades for easier operation during tours and public events.
4. Beneficial improvements to help serve the membership.
5. Special projects.
Several spending proposals were received and rated. They will be dealt with further at the budget meeting.
On April 28, 2009 – 7:00 pm at SpeeDee Printers (490 Brunswick St.) there will be a special Budget Meeting where spending proposals received by April 25, 2009 will be evaluated, discussed, voted on, and funds allocated to complete the chosen proposals. If some proposals do not have enough funds immediately available to bring them to fruition but are decided to be implemented, we will set up savings accounts in our bookkeeping system to allow us to have money set aside and saved until such time as we have the money to complete the project. This will allow us to put money raised or donated towards a specific project without fear of it being spent on other items. Proposed changes to how RASC handles Centre donations will allow us to funnel the donations into the appropriate account, unless the donor has specified that the donation go to a certain project.
Approach Wolftek to get an estimate on flange costs for budgetary purposes.
Get an estimate for removing, replacing the dome from Sterling Crane as well.
ACTION: GLEN
The Lunar Marathon has been extended to two evenings – May 1 and 2 starting at 6 pm.
Next meeting will be on May 13, 2009 – 7:30 pm At SpeeDee Printers (490 Brunswick St.)
Meeting adjourned at 9:49 pm