Monthly Archives:
November 2007
PRINCE GEORGE ASTRONOMICAL SOCIETY
ROYAL ASTRONOMICAL SOCIETY OF CANADA
PRINCE GEORGE CENTRE
7365 Tedford Road
Prince George, BC
V2N 6S2
Business Meeting Minutes
November 14, 2007
Date: November 14, 2007
Location: 3323 Hart Highway
Chairperson: Gil Self
Recording Secretary: Glen Harris
Executives Present: Gil, Glen, Bob, Maurice, Blair, Brian, Jim T
Members Present: Bill G.
Meeting Called to Order at 7:35 pm.
1. Previous Meeting Minutes
Minutes of October 10, 2007 meeting were circulated.
Motion to accept minutes as circulated. MSC
2. Treasurer's Report
Dependant on instruction from gaming commission.
3. Correspondence
SpeeDee invoice
4. Old Business
It is hoped that more club members will become involved with The Dark Sky initiative. The aim is to present information to city council, prepare a public presentation, and approach the Department of Transport regarding street lighting on roads under their jurisdiction. We'll be looking for the results of a survey focused on the proposed automat located near the Bon Voyage on Hwy 16 West.
NOVA will be reintroduced in January at a cost of $94 with no UNBC involvement. Some posters are up, and the membership has been asked to help distribute more.
Acting on recommendations gleaned from the PG Centre survey sent out a while ago, we will increase advertising, purchase two more Dobsonian telescopes, do more parking lot astronomy (solar viewing), and expand the key holder's viewing list. The latter item will depend on the general membership getting in touch with an executive member and asking to be included on an email list that is sent out whenever a key holder is planning on viewing at the observatory. Efforts are being made to improve the content of the newsletter, but positive results rely on articles being submitted by the membership.
5. New Business
RASC benefits discussion was tabled.
The observatory will be closed when a road condition advisory has been issued. For open houses, the primary will be responsible for notifying the alternates. For tours, the primary will be responsible for contacting the alternates and the person who requested the tour, contact information being supplied by Brian, the tour coordinator. A remote check of messages on the answering machine will also be made.
Tour booking procedure:
Here's a standard list of questions
Name
Number (day) & (eve)
How many people attending?
Any specific presentation content required?
Once the tour is set up on our end we send the above info to the host and the below info to the tour requester.
Your tour has been set up. Please contact the tour host below as soon as possible to confirm the tour details. Also contact the host if you need to cancel or otherwise make changes to the tour.
Tour host number….. 555-5555 email: xxx@yyy.com
Please be advised that if there is a road advisory in effect the tour will be cancelled.
The tour primary will contact the person who requested the tour one day prior to the event and verify that it is still a go, and confirm presentation content.
Motion: Provide a youth membership (1 year) to the next-door neighbour's daughter as a show of appreciation for extinguishing his yard lights when we observe. MSC
Motion: Pay Fae's membership. MSC
Glen will label all loanable inventory.
Default loan period is one month. If an extension is required, email pgcentre@yahoo.com for permission. The request may be denied if there is a waiting list. Some policing of the policy may be required, and reminders to return overdue items might be required. The current secretary will take on this responsibility.
Glen will research the cost to re-key the observatory and report back to the executive.
Re-registration is required every year for YRB to plow the driveway. Glen will be taking care of registration and checking on the feasibility of using a lock box at that time.
Approve 2008 NOVA budget (mainly advertising) No $ amount, but discretionary spending is expected. MSC
Radio spots on CFIS 93.1 have been prepared for the rest of 2007. Maurice will be working on the January and February spots in the near future.
Bob requires spending requests for the 2008 Gaming Proposal. The proposal must be submitted by the end of November 2007.
Motion: Purchase an additional 4.5″ Orion Starblast Dobsonian telescope and a 6″ Dobsonian telescope. MSC
The audio quality of the answering machine is very poor. Glen will research options and report back to the executive with the cost of replacement.
The website has two new pages. One is for NOVA, and the other for Light Pollution Abatement.
6. Upcoming events
Open houses on Nov 16, 17 (Leonids), 23, and 30
Sea Cadet Tour Nov 22
Social Night Nov 24 @ 7:30 pm
Christmas Pot Luck Wednesday, Dec 12 @ 6:30 pm. Let Brian know what you're bringing.
First NOVA session Jan 26, 2008 @ 7:00 pm
Meeting adjourned at 9:15 pm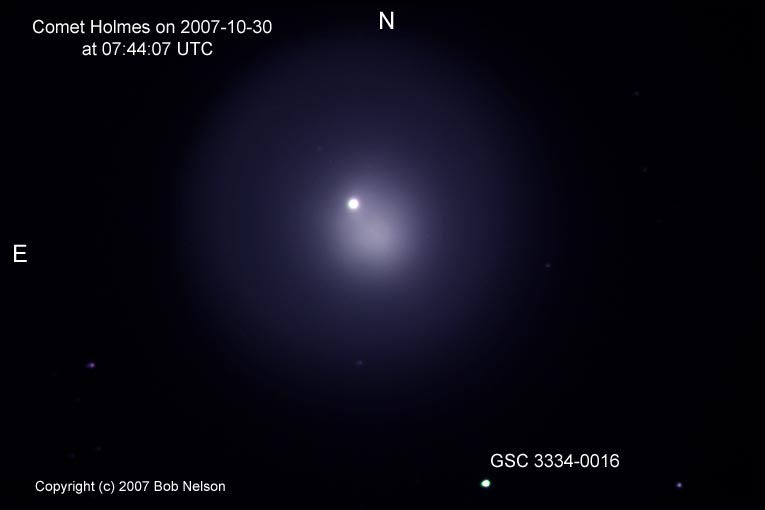 ---
Photographer: Bob Nelson
Object: Comet 17P Holmes
Date: October 30, 2007
Details: 3 seconds in red, 5 in green and 10 in blue.