Monthly Archives:
September 2006
PRINCE GEORGE ASTRONOMICAL SOCIETY
ROYAL ASTRONOMICAL SOCIETY OF CANADA
PRINCE GEORGE CENTRE
7365 Tedford Road
Prince George, BC
V2N 6S2
Executive Meeting Minutes
September 13, 2006
Date: September 13, 2006
Location: 7365 Tedford Road
Chairperson: Gil Self
Recording Secretary: Glen Harris
Executives Present: Gil, Maurice, Greg, Jim Arnold, Wayne, Glen
Member Present: Blair
Meeting Called to Order at 7:40 p.m.
1. Previous Meeting Minutes
Unavailable
2. Treasurer's Report
Unavailable
3. Correspondence
Terasen statement, SpeeDee invoices, various RASC Centre newsletters.
4. Old Business
The classroom improvement proposal will be included in the next Gaming grant.
Telescope drive upgrade – specific details were unavailable, but a December/January time frame for the installation of worm and gear was suggested.
Jerry at Northwood is working on the dome drive assembly.
September/October Open House staffing:
Sept. 15 Maurice, Jon
Sept. 22 Gil, Jim A, Wayne, Todd
Sept. 29 Maurice, Jon
Oct. 6 Greg, Valerie
5. New Business
  Attach a Spending Proposal Summary/Approval sheet (see attachment) to each spending proposal. File # will be the date approved (yyyymmdd-xx). Copies of the form can be retrieved from the FTP site. The Treasurer will keep a master list of all approved proposals.
Motion: Add 4 more rollers to distribute the dome load more evenly and reduce wear on the flange. $150 limit. For the main slot opening mechanism, replace the defective lower U Joint, relocate the shaft closer to dome by installing steady bearing and U Joint at shaft midpoint. Midpoint attachment will be to a dome rib. Blair will be the prime mover on this project
Moved: Gil Seconded: Maurice Carried
Glen will follow up on a snowplowing contractor with Jeff Sarrazin.
4-shooter replacement discussion was tabled to the next executive meeting and will be included in Bob's technical improvements/ utilization of the observatory discussion. 20 minutes allocated.
Motion: Renew insurance with coverage of $160K for building, $50K for telescope at a cost of ~$1500 taxes included. Maurice is taking care of this item.
Moved: Maurice Seconded: Wayne Carried
Greg has borrowed the club's Compaq Armada V300 laptop.
Purchase of a Coronado PST telescope for CDN $700 plus taxes will be contingent on a financial report from the treasurer. The telescope would be mounted on the main scope and images could be transmitted to the classroom using existing infrastructure and technology.
Jim will contact an exterminator regarding the Carpenter Ant problem.
Saturday member nights will not be scheduled. Any key holder planning to open the observatory is asked to email his intention to the entire membership.
The remainder of the October Open House staffing will be determined at the September 27 meeting.
Motion: Purchase a multi toolbox for use at the observatory. Spending limit of $100. Maurice is dealing with this item.
Moved: Maurice Seconded: Gil Carried
Maurice to research the cost of 2 – 50′ extension cords for use with the vacuum cleaner and weed whacker.
Motion: Renew Fae Mooney's RASC membership. Glen will take care of this.
Moved: Gil Seconded: Wayne Carried
Recreation Market critique: Ensure that contact info and signage is current. The club will be participating in the Spring Rec. Market, and any executive member is authorized to reserve a booth when the notice from the city is received.
September 27 general meeting 'entertainment' has not been finalized. It was unclear if Maurice was going to try and line up a guest speaker who would talk about planetariums. Gil will ask Bob to do a 'Constellation of the Month' presentation. Greg will see if he can get some UNBC guest speakers for future meetings. There is a need to plan the general meeting 'entertainment' well in advance.
Adjourned at 9:25 pm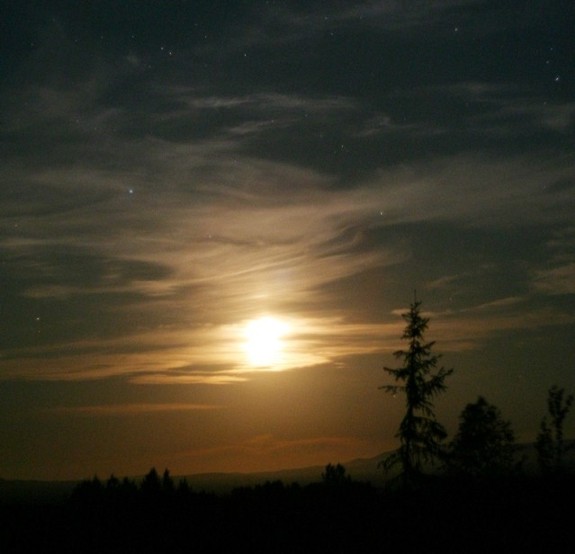 ---
Photographer: Doug Sanders
Object: Picture of the moon while looking for European Space Probe crash
Date: September 02, 2006
Details: The shot of the moon was taken with a Canon Rebel camera through light cloud