Monthly Archives:
January 1994
Editorial Comments:
In the Sky
Monthly Meetings
Announcements
Hubble News
What Lunar Eclipse?
Image Gallery
PeGASus – News Letter of the Prince George Astronomical Society – January 1994 Issue #44
---
Prince George Astronomical Society Executive 1993/94
President Orla Aaquist 562-2131/964-9625
Vice President Bob Nelson 562-2131/563-6928
Secretary Jon Bowen 563-9869
Treasurer David Sundberg 562-5774/6655
Members at Large Ted Biech 562-2131/564-2838
Matthew Burke 964-3889
Nominated Positions
Technical Director Bob Nelson
Observing Director Jon Bowen
Promotional Director Orla Aaquist
PeGASus Editor Shannon Austman
The Observatory phone number is 964-3600. This is a party line, so if it rings busy, it does not imply that someone is at the observatory.
---
Editorial Comments:
This is the first issue of 1994, and I know that all of you made a New Year's resolution to contribute more to this newsletter. So I have left lots of room for your contributions. I am writing this on January 10, and there is still a whole week for you to submit your article. I am confident that you will 'hit' the keyboard some- time this week. I am sending you a psychic message to this effect. You long to pick up a pen and start writing something astronomical. If you don't, I will start accepting astrological articles from Zelda. It's almost the same thing, isn't it? Just kidding, Bob.
For the last few months I have been sending our newsletter to various RASC centres in western Canada hoping for an exchange of newsletters. So far only the Victoria Centre has responded by putting us on their mailing list. THANKS VICTORIA! How about the other centres? We would like to receive a copy of your newsletter, too.
Oh, yes. Sorry for the brief newsletter last month. We'll try to do better next Christmas.
---
In the Sky: by Alan Whitman
Saturn is leaving the evening sky this month, as the sun approaches. Meanwhile Mercury, which never gets very far from the sun, makes its best evening appearance of the year. It will be best placed on February 1st and will shine brightly at magnitude -1 during mid-twilight. If you find Mercury on the 1st, binoculars will reveal Saturn only 1.3 degrees to the south but two magnitudes fainter. Mercury is always easiest to see each year during the evening apparition closest to the spring equinox and this is the one–imagine that, a sign of spring already!
Mercury is not that difficult a target when it is this well placed and this bright (its magnitude varies far more than that of any other planet). However, you will need a flat WSW horizon. Try Highway 16 in the Beaverly area or Foothills Drive along the big hill near Ridgeview Drive. The last week of January and the first week of February is about the whole apparition.
Jupiter still rules the morning sky, rising by 1 AM at the beginning of February and is in the south during morning twilight. If you are still unhappy about being clouded out during the lunar eclipse, Jupiter's system offers another chance. Did you know that eclipses of Jupiter's moons can be watched two or three mornings a week! The smallest telescope will do the job.
Here are the times of a few events (PST):
Jan 31 5:22 AM Io eclipsed8:10 AM Ganymede eclipsed (two in one morning but this is only 7 minutes before sunrise so you must begin following Jupiter in your telescope by about 7:40)
Feb 2 3:14 AM Europa reappears from eclipse VERY CLOSE to Jupiter and disappears behind the planet only 11 minutes later
Feb 7 7:15 AM Io eclipsed
Feb 9 1:43 AM Io eclipsed (Jupiter is low in the SE) 3:27 AM Europa eclipsed 5:50 AM Europa reappears from eclipse
6:00 AM Europa disappears behind Jupiter For more phenomena of Jupiter's moons, consult Sky and Telescope magazine at the CNC library. You can also watch total solar eclipses as the shadows of the moons move across Jupiter's disk with a good quality telescope (I've seen the shadows with a good 60mm refractor when the seeing was very good and Jupiter was unusually close, displaying a disk a full 50″ in diameter).
I've been struck by how many British Columbians go out in the winter. If you're one, don't forget your binoculars or a portable telescope. You can see many things that never rise this far north and over the course of the night half of the sky will wheel overhead. Going south in February, say to Hawaii or the Mexican Riviera? This will put you more than 30 degrees of latitude south of Prince George. Here's a taste for late February:
8 PM: Sirius, the brightest star, is more than halfway up the southern sky, instead of low in the south as we are used to. But there is a bright star low in the south right about where you usually see Sirius. Canopus! The second brightest star in the sky can never be seen from Prince George but in Hawaii it mimics Sirius, scintillating like Sirius does low in our winter sky.
10 PM: The southern constellations Puppis, Carina, and Vela float across the south along with the Vela portion of the Milky Way.
Midnight: Crux, The Southern Cross, and Centaurus are rising in the SE. Leo's Sickle is right overhead.
2 AM: Crux is due south but it's too low to see the Coalsack (save that for Australia). If you've brought your telescope and found a dark sky, the galaxies of Virga and Coma Berenices are overhead while the Sombrero Galaxy (M104) is 55 degrees up. (The Sombrero is fairly good from Kelowna but it just never gets high enough in Prince George).
3 AM: Omega Centauri is the best globular cluster in the sky. It is unmistakeable in binoculars about 35 degrees below Spica and easily resolved in almost any astronomical telescope at 60X. Just 4 degrees to the north lies one of the finest galaxies in the sky, NGC 5128 with the most prominent dark lane of any galaxy (also known as Centaurus A).
5 AM: This view is worth the price of the trip! One of the most attractive constellations in the sky is Scorpius and it even looks like a scorpion. From PG only the top half of Scorpius struggles above the horizon; from Mexico it is a curling splendour with ruddy Antares half way to the zenith! The Sagittarius Milky Way is high in the SE and from a dark site it looks like the photographs, not like the anaemic glow we see here. The real surprise is seeing that the Milky Way spreads far beyond the brightest portion in Sagittarius. From a dark southern site the glow bathes much of Scorpius and part of Ophiuchus (home of the big 7 degree long dark Pipe Nebula which is visible to the naked eye–a dark pipe (what else) against the bright Milky Way.) So if you go south for the winter for some summery weather, rising before dawn will also give you the summer stars and it will be a view that you will never forget. (The trick of course is to find a safe dark site).
---
Monthly Meetings:
Last Meeting
There was no meeting in December. Rather a few members met at Alan, Gretchen and Jennifer Whitman's house for a PGAS Christmas party. Thank you for a wonderful time and the great food. Gerhard and Riva Bierman contributed a wonderful party tray of seafood morsels and the rest of us contributed hearty appetites.
Next Meeting
The next meeting will be held at the College of New Caledonia in the Physics Laboratory (room 2-223) on January 26th. As usual, the meeting will start at 7:30 with a short business report from the various executive and directors.
Bob Nelson will once again entertain us with the constellation of the month presentation. Then John Dobson will talk to us about telescope making. Both Bob and Orla have built telescopes in the past and they will attempt to add a lively commentary to this interesting video. If there are any club members who are interested in assembling their own telescope and grinding their own mirror, this meeting is a 'must'.
We need your ideas to make our monthly meetings a success. What would you like to see happen at these meetings? What other activities would you like to see happen at these meetings? What other activities would you like to see our club participate in? What do you want out of the club?
---
Announcements
Observatory Bookings
The observatory is available to PGAS members for their personal observing projects. It is also open for special interest groups such as schools and cubs. If you want to book the observatory, contact the Observatory Director (Jon Bowen, 563-9869), before finalizing your observing plans to ensure that conflicts do not arise. Also, not all of our equipment is kept at the observatory at all times because of our activity with the Scientist in the School Program and The PeGASus Project.
Astrology
Get your computer generated horoscopes and detailed personality profile from Zelda.
Sky and Telescope Subscription
The club is eligible for a subscription discount to the magazine Sky and Telescope. As a member of the PGAS you can take advantage of this discount if we order the magazine through the club. If anyone wants to subscribe to the magazine, please give Alan Whitman a call or let us know of your interest at the next monthly meeting. We can probably get a subscription discount from Astronomy too. Let Orla know if you are interested.
Hubble's Glasses Work
The Hubble telescope is now fixed and reports claim that its vision is 'beyond anyone's wildest dreams'.
Astronomy and Music
Astronomy is truly music of the spheres. If you don't believe this, come down to the Fraser Fort George Regional Museum by 7:30 PM on January 20 and hear a presentation given by Orla Aaquist. This is a family event. Call the museum at 562-1612.
Astronomy Anyone?
Observing is not much good these days. If its not cloudy, its freezing cold, and if it isn't snowing, its raining. How about some armchair astronomy in the warm comfortable setting of CNC to wait out the rest of the winter? Orla is willing to hold weekly evening astronomy classes for members if there is enough interest within the club. Give him a call at home (964-9626) or at work (562-2131 local 307). This would be strictly a non-algebra course, lots of discussion and absolutely no pressure to learn anything unless you want to.
No Heat at the Observatory
There will be no heat at the observatory this winter due to lack of funds. If you go out there, bring your own heat.
Observatory Computer When you go out to the observatory, please take care NOT to use the computer if the temperature is below freezing. Damage to the hard drive may occur. Thank you.
---
Hubble News
The following electronic mail was received from Chris Brougham at the editor's office on January 15.
From: <brog@vanbc.wimsey.com>
Hi Orla, I thought you might be interested in this NASA/JPL Press Release (perhaps for inclusion in the newsletter?) as well as an offer from me to obtain any HST images that have recently been released. I have easy access to the site and a high speed modem to transfer the images to disc (or send them to you in a uuencoded format via e-mail). Let me know.
FOR IMMEDIATE RELEASE January 13, 1994
PUBLIC INFORMATION OFFICE JET PROPULSION LABORATORY CALIFORNIA INSTITUTE OF TECHNOLOGY NATIONAL AERONAUTICS AND SPACE ADMINISTRATION PASADENA, CALIF. 91109. TELEPHONE (818) 354-5011
Contact: Diane Ainsworth
NASA today announced the completion of its planned series of adjustments and tests of the cameras onboard the orbiting Hubble Space Telescope and released images showing that the telescope's desired performance has been restored.
NASA today announced the completion of its planned series of adjustments and tests of the cameras onboard the orbiting Hubble Space Telescope and released images showing that the telescope's desired performance has been restored.
The announcement was made at NASA's Goddard Space Flight Center in Greenbelt, Md., by NASA Administrator Daniel S. Goldin and Sen. Barbara A. Mikulski (D-Maryland), chair of the Senate subcommittee responsible for appropriating NASA funding.
In successive news panels following the announcement, scientists, engineers and managers at NASA's Jet Propulsion Laboratory expressed satisfaction that the space telescope's Wide-Field and Planetary Camera-II was performing perfectly. The camera, designed and built at JPL, is the principal imaging instrument aboard the observatory and was used to take most of the images NASA released today.
The Hubble servicing mission, conducted in December 1993 aboard the space shuttle Endeavour, put in place a new JPL-built camera that incorporates correc- tive optics to compensate for a flaw in Hubble's 2.4-meter (94.5-inch) diameter primary mirror. Shortly after launch, star images from the newly deployed telescope showed that the surface of the mirror was too flat by an amount equal to about 1/50th the width of a human hair and that images could not be brought to a sharp focus.
The corrective optics in the new camera have completely eliminated this blurring so that images are essentially in perfect focus, according to Dr. John Trauger of JPL, principal investigator of the new Wide-Field and Planetary Camera-II.
Once the new camera was installed, the original Wide-Field and Planetary Camera-I, also designed and built at JPL, was returned to Earth by the STS-61 astronauts for possible reuse at a later time. Except for the flaw in the telescope itself, the original camera had also performed perfectly, scientists reported, and was used to record most of the images obtained to date from the Hubble telescope.
In addition to the Wide-Field and Planetary Camera-II, the Endeavour astronauts also installed the Corrective Optics Space Telescope Axial Replacement, or COSTAR, a telephone-booth-sized instrument that carries corrective optics to offset the telescope flaw for three other science instruments aboard Hubble: the European Space Agency's Faint Object Camera and the Goddard Space Flight Center's High Resolution Spectrograph and Faint Object Spectrograph.
The astronauts replaced the telescope's solar panels, used to generate electricity from sunlight to power the observatory, because the original panels were found to cause vibrations of the telescope when it passed into and out of Earth's shadow. Replacement gyroscopes and an upgraded computer memory were also installed during the highly successful servicing mission in early December.
The refurbished Hubble Space Telescope is now capable of achieving the scientific objectives for which it was originally designed, scientists and engineers concurred at the news conference.
The images released today show, for example, that the telescope is for the first time able to see individual stars that are imbedded in galaxies at the distance of the Virgo cluster some 65 million light years away. These stars are of about the same brightness as Cepheid variable stars, which are used by astronomers to measure distances.
A key science program of the Hubble telescope to accurately calibrate the cosmic distance scale — currently uncertain to within a factor of about two — will also become possible for the first time.
Other images released today show how well the telescope will be able to produce clear, sharp images of the densely populated regions near the cores of galaxies and star clusters, previously thwarted by the telescope's blurred imaging.
Images that were taken with the new Wide-Field and Planetary Camera-II reveal well-resolved shots of newly forming stars in the nearby Orion nebula. They also show previously unseen structure in the exploding star Eta Carinae, which is located in one of the Magellanic clouds just outside the Milky Way galaxy.
In one of the images, the expanding gas clouds around Eta Carinae have grown larger than they were when first observed by Hubble, as the result of the clouds' expansion at a speed of about 1,000 kilometers per second.
The Wide-Field and Planetary Camera-II was designed and built by JPL for NASA's Office of Space Science, Washington, D.C.
1-13-94 DEA # 9405
---
What Lunar Eclipse? by Orla Aaquist
It was not clear in Prince George for the lunar eclipse on November 28. The observatory was open for the event, and I thank the members who dropped by to help: the entire Bowen family (who brought hot chocolate and cookies), Matthew Burke and Bob Nelson. It has been a while, so I probably forgot someone. Sorry. Although we saw nothing of the moon, we did see an exciting episode of 'Deep Space 9' (thanks for the rabbit ears, Steve) and a video of John Dobson making a telescope.
Despite the clouds, two local families dropped by to have a look at our facility.
My parents in Edmonton saw the eclipse from their back steps. They are not astronomers. To them, astronomers are people who look up at the stars and waste the taxpayer's money rather than doing something useful like digging ditches or being a doctor. My parents do not know the difference between a lunar eclipse and a solar eclipse and had never seen either one until November 28. So when I asked them to keep an eye on the moon on the evening of November 28, they asked me, 'Which eye?'
Yes, they did have a look at the eclipse, several times during the evening, in fact. They were impressed. Now, I know I shouldn't advertise this fact, but I have never seen a lunar eclipse, so I was curious what an eclipsed moon looked like. The photos in Sky and Telescope show a moon with an orange shading. However, they told me that the moon looked blue during the eclipse. Can an eclipsed moon look blue?
---
The Image Gallery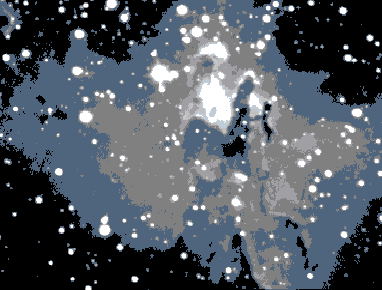 A CCD image of the Eagle Nebula in Serpens taken by Jack Newton. The exposure is 300 seconds.
---
PeGASus is published monthly by the Prince George Astronomical Society. Contributions to the newsletter are welcome.
Deadline for the February issue is Friday, February 11
Send correspondence to: The PGAS 3330 – 22nd Avenue Prince George, B.C. V2N 1P8 or Aaquist@cnc.bc.ca