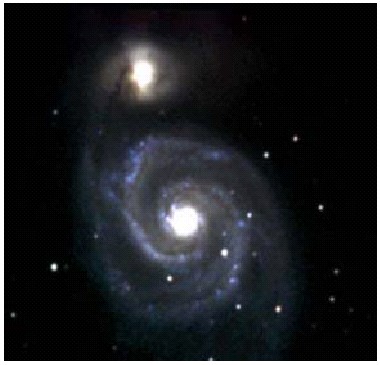 ---
Photographer: Bob Nelson
Object: M51 (Whirlpool Galaxy)
Photography Method: 70 minute picture of M51: 10 min clear, 10 min R, 20 min V (green), and 30 min B. After suitable processing (removing excess background, clearing away cosmic ray traces, registering and summing each colour, rotating and registering the 4 colours), I combined the 4 images to produce this colour image. It's not the greatest image of this galaxy, but one that I am happy with since it represents my best to date. BTW, almost all frames were 2 minutes unguided. Seeing was fair to good at 2.6″ and the atmosphere very clear (for these parts).