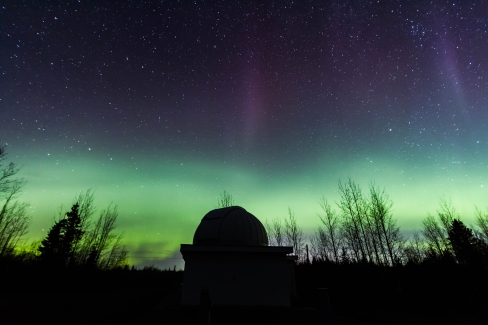 ** NEW OPEN HOUSE FORMAT **
The next Public Open House of 2016 will be held on Friday, February 12, 2016 from 7:30 pm until 10:30 pm, depending on road conditions.

There will be a different presentation each week starting at 7:30 pm and 9:00 pm with telescope use familiarization and viewing to follow. Viewing is weather dependent. Should the weather not cooperate, there will be several activities available in the classroom. Admission by donation  $2/person or $5/family.
Winter/Spring 2016 tour dates are now available for booking.

Observatory located near West Lake Location: 53 45′ 29″ N 122 50′ 56″ W
Welcome to the Royal Astronomical Society of Canada Prince George Centre. We are a nonprofit organization, operating and maintaining the observatory with volunteers dedicated to the advancement of astronomy and science in Prince George and the neighbouring Northern Canadian communities.
If you have come to this page looking for the Prince George Astronomical Society, don't worry! you are at the right place. The PGAS has joined the Royal Astronomical Society of Canada and we now have a new name.
Please take some time and browse our pages to learn what our club is all about. If you have any questions please contact our society president Blair Stunder or call us at (250) 964-3600.
FEBRUARY PLANETARY ALIGNMENT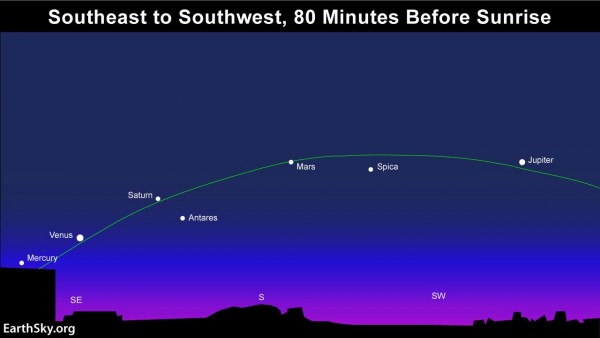 GUEST SPEAKER  JAMES EDGAR SATURDAY, APRIL 23, 2016

FREE and open to the public.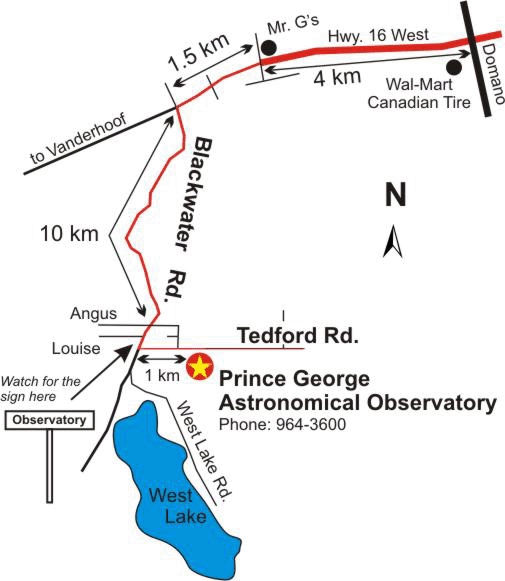 7:00 PM Pre-meeting mix and mingle.
7:30 PM Guest Speaker
James Edgar
Synthesis of Elements in Stars
All stars are born from hydrogen and during their lives they produce elements through nuclear fusion. High-mass stars end their lives as supernovae, perhaps the most cataclysmic events in the universe, producing the heavy elements.
This talk merges James Edgar's love of woodworking, astronomy, genealogy, chemistry, physics, and poetry from Northern Ireland, although the main thrust of the presentation is about how elements form within stars.
About James Edgar:
James Edgar's interest in astronomy began in the early 1970s when he and his family went into the dark of night to see Comet Kohoutek. Unfortunately, it didn't present itself at naked-eye brightness. James started by volunteering with the Vancouver Museum, going into schools, talking to children about the Sun and the stars. In 1999, he bought his first telescope. One year later, his son bought him a membership in The Royal Astronomical Society of Canada (RASC) and, as they say, the rest is history. James has attended every General Assembly of the Society since 2001. He is now National President of the RASC, production manager of the Society's bi-monthly Journal, and is excited to be the next editor of the RASC Observer's Handbook.